Go Back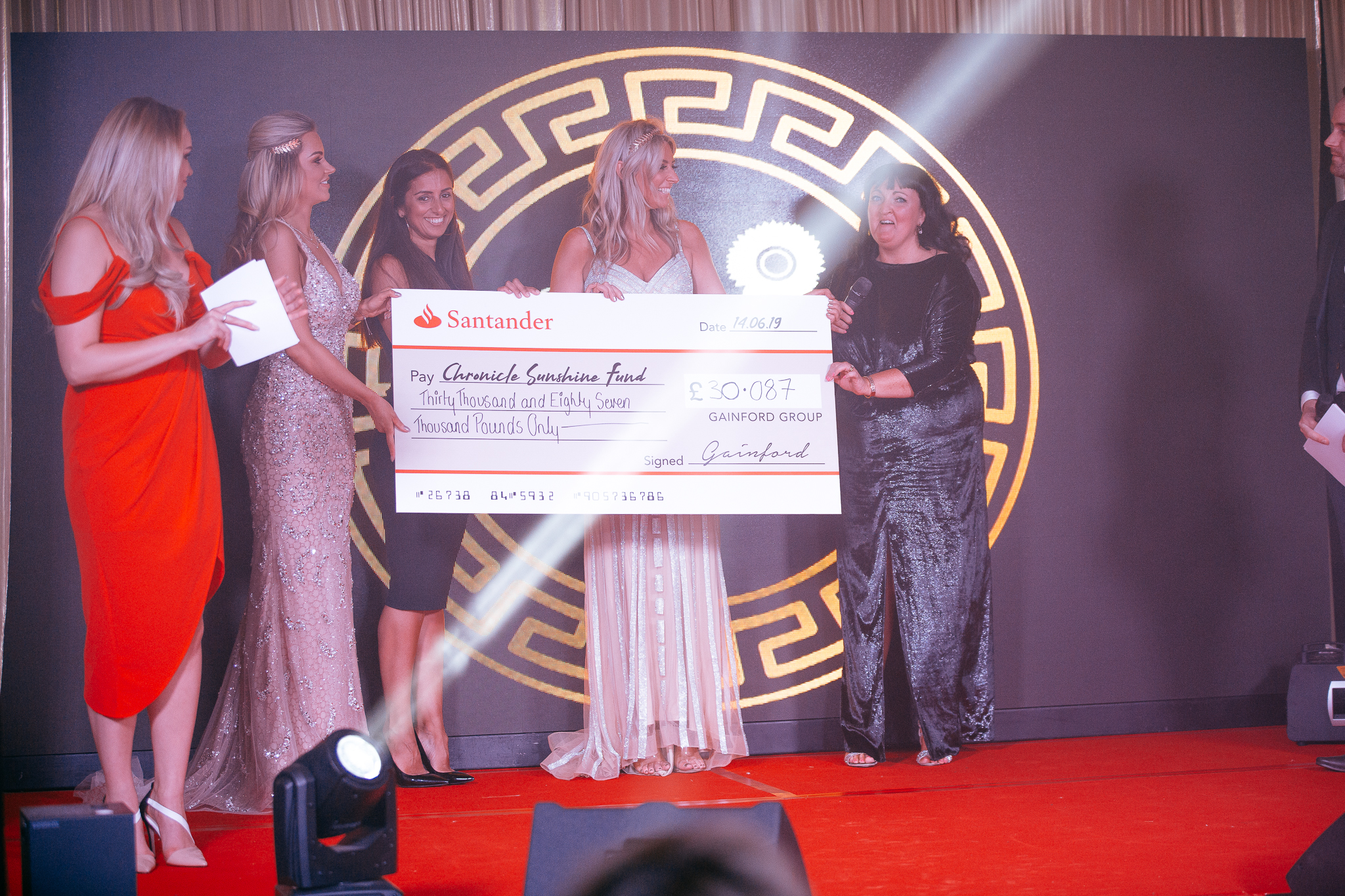 17th Jun 2019
Miss Newcastle 2019 final raises a record breaking £30,087.00
The grand final was hosted at The County Hotel on Friday 14th June in Newcastle City Centre and was the most successful event in the history of the competition.
This was the 12th Year of the Miss Newcastle competition – which over the past decade has raised over £150k for local charities is now considered one of the biggest events in the North East Social Calendar. Gainford Group is proud to host the event in partnership with Tyne Tees Models.
Miss Newcastle is much more than a beauty pageant it encourages young ladies from across the North-East to step out of their comfort zones, be selfless with their time, get creative and raise £1000's of pound for local charities – culminating in a glitzy black-tie final which is a celebration of the achievements of all the girls, an opportunity to raise even more money for charity and ultimately crown the winner. This year's fundraising total exceeded their target by an incredible £10k.
The theme for this year's final was 'The Year of Aphrodite' drawing inspiration from the Greek Goddess of Beauty and Love. The event opened with a dramatic stunning dance sequence, which was followed by fashion and evening wear rounds on the catwalk. They also had to answer a question put to them by the panel.
The Charity
It is very important to us that the fundraising from Miss Newcastle directly benefit people right here in this region so the Sunshine Fund as a charity is the perfect fit for us. The Sunshine Fund provides specialist equipment to hundreds of disabled children in the North East every year- applications are at an all time high so there are many more children who need our support and through 'Miss Newcastle' we can help to allow every child to reach their potential and live life to the full.
The Process
We had over 300 applicants for this year's Miss Newcastle which is the largest number we have ever received. The girls then went through an interview process and 12 Finalists have been chosen in various heats hosted across the region by our event sponsors; Individually, they must raise as much money as they can for the charity in lead up to the final in a fundraising mission as ambassadors for the Sunshine fund.
Miss Newcastle 2019 Finalists
Allegra Graham - Whitley Bay
Amy Conway - Wallsend
Annie Bell - Hamsterley
Charlotte Moore - Newcastle
Chelsea Simpkin - Cramlington
Ellis Toward - Chapel Park
Leanna King - Jesmond
Learnna Sayers - Jesmond
Louise Brown - Ryton
Mia Kelly - Northumberland Park
Money Grant-Chowdhury - Chester le Street
Sophia Chisholm - Bedlington
Armed with their yellow buckets they have exceeded all expectations. They have drawn on their own individual interests and networks to set up events; from Dog Walks in Exhibition Park, an Easter Bonnet Parade at Hadrians School, Pamper days at The Body Shop, Charity Fundraisers at local clubs one girl has even designed her own Sunshine on a Rainy Day t-shirt which she has been selling to her friends.
As a group they have raised an astonishing amount bucket collecting at Newcastle Racecourse and also doing a team bag-pack in ASDA at the Metrocentre.
It really has been beautiful to see how much they have embraced the challenge and also a pleasure to see their own friends / family and communities getting behind them. We have girls from all over the region Cramlington, Chester-Le-Street, Bedlington, Gosforth, Chapel Park, Jesmond, and Whitley Bay… so the Sunshine Fund message is really spreading across the region.
Huge congratulations to Monet Grant-Chowdhury who was crowned Miss Newcastle 2019!
A spokesperson from Gainford Group, hosts of Miss Newcastle said:
'Gainford Group are proud to host the Miss Newcastle event and are delighted to have exceeded our fundraising target with £30,087.00 going directly to benefit young people with special needs in our region.'
'The Miss Newcastle event is a positive showcase for young women in our region; encouraging them to step out of their comfort zones and help build confidence, at the same time directly benefitting the charity via their fundraising in the community. The final really was a celebration of the achievements of all 12 girls who worked hard in the build up to the final. '
'It is a testament to the success of Miss Newcastle that the Miss England event will be hosted in Newcastle this year for the first time in it's history. We are thrilled to bring this iconic event to our city and create another fantastic fundraising platform which will benefit charities right here in the North East, specifically The Chronicle Sunshine Fund which is also this year's chosen charity for Miss England"